Genuine USB-Link™ 3: Wired 121054 Link Bluetooth Adapter/ Interface for Truck Diagnostics with Cables j1939 9 pin y cable & J1708 6 Pin
Nexiq USB LINK 3 the next generation vehicle interface from NEXIQ Technologies, has arrived. Dependable and rugged, the new USB-Link™3 is five times faster than its predecessor the nexiq usb link. It has sixteen times more random access memory than the old USB-Link, and it supports heavier bus loads on simultaneous channels.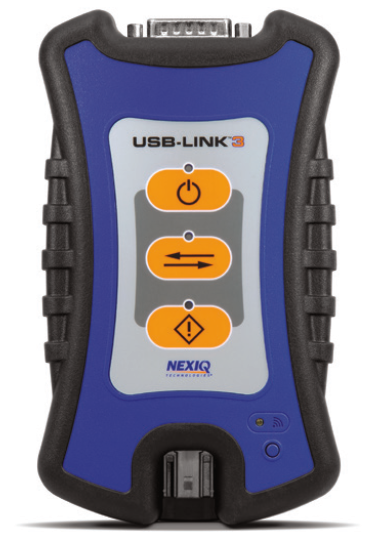 The USB-Link™ 3 comes with the following:
* Latching USB Cable (PN 404032)
* j1939 9 pin y cable, 1 Meter (PN 493128)
* J1962 Adapter (16-Pin OBD II, 1 Meter (PN 493113)
*J1708 (adapter converter)
The USB-Link™ 3: Wireless is also available (PN 121052).
Note: For best results, Class 1 (100 m range) Bluetooth® USB adapters are recommended. Class 1 adapters are recommended because of their greater operating range. See PN 405001 in the list of Accessories below.
The USB-Link™ 3: Wireless is also available (PN 121052)
---
Vehicle Network Protocol Support
CAN FD / J1939 FD / ISO15765 FD – 250K, 500K, 1M b/s with auto baud detection
Single wire CAN (SWCAN)
ISO 11898-3 Fault Tolerant CAN (FTCAN)
Diagnostics Over Internet Protocol (DoIP)
J1708
J1850 VPW (Class 2)
ISO PWM (SCP)
ISO 9141 / KWP2000 (ISO 14230) K/L line
ALDL 9600 and 8192 baud
ATEC 160 baud
Windows® Vehicle Communication API
Windows® Vehicle Communication API
RP1012 a/b/c
J2534 (2004 draft)
J2534-1 partial implementation (commercial vehicle focused)
Operating System Compatibility
iOS
Android™
Windows® 10, 11
Interfaces to Computing Platforms
USB 2.0 (vehicle-to-PC connectivity)
Bluetooth® 2.1 + EDR
Wi-Fi (dual band)
Compatible Software
Detroit Diesel Diagnostic Link
CAT Electronic Technician (On-Highway only)
Cummins Insite
International – ServiceMAXX Fleet Pro
Hino eXplorer
Volvo PTT
VCAD Elite Mack/Volvo
V-MAC Service Tools
Allison DOC® For PC-Service Tool – Protocols Supported: J1939, J1708/J1587, and J1850
Allison DOC® For Fleets (1000/2000) – Protocols Supported: J1939, J1850
Allison DOC® For Fleets (3000/4000) – Protocols Supported: J1939, J1708/J1587
Eaton ServiceRanger
Bendix ACom
WABCO Toolbox
Freightliner ServiceLink
International ABS
International DLB
International Intune
International IPC v2.02